EAST CENTRAL
OHIO EDUCATION ASSOCIATION
129 EASTON ST NE SUITE 103
CANTON, OH 44721
(330) 499-8587
ecoea@sbcglobal.net
 ECOEA—THE LINK BETWEEN YOUR LOCAL
AND THE OHIO EDUCATION ASSOCIATION
RETIREMENT WORKSHOP

REGISTRATION NOW OPEN!
REGISTER AT THE TAB MEETINGS & EVENTS ABOVE. RETIREMENT WORKSHOP IS SATURDAY, JANUARY 30, 2016. REGISTRATION LIMITED TO THE FIRST 100 MEMBERS AND GUESTS! 
OEA President Becky Higgins
Fall Listening Tour 2015
OEA President Becky Higgins visited ECOEA for her Fall Listening Tour on Monday, November 9. Escorted by ECOEA President Tracy Lemus Santos, Becky began her day at the Wayne County JVS where President Bruce Steiner arranged for Becky to visit several classrooms. Becky and Tracy were impressed with the young nursing students in the classroom of Pam Vorkapich. These students earn their STNA license and will graduate with their LPN, ready to enter the workforce or go on and earn their RN. Equally impressive were the students in the Powerline Techologies class of Rich Grimes who were learning to wire a home for electric, phone, cable, and practicing utility pole climbing. The classroom is run like a workplace; students are empowered to make decisions. Observing the electronics classroom of Gary Wimer, students had built robots and were working on programming them.  A visit to culinary arts rounded out the tour of the building where students were making doughnuts for the bakery. What wonderful learning opportunities are available for students and adult learners in the community.
The group moved on to Wooster High School where Wooster EA President Scott Miller and High School Principal Tyler Keaner led the group through the building where they visited the Library, General Grounds student-run coffee shop, classrooms, and blended learning. The day concluded to a visit to Cornerstone Elementary which is housed in the old Wooster High School. President Higgins read to the second grade students in Heather Higgins classroom and ended the day with a meet and greet after school. ECOEA was very happy to have President Higgins visit our Wayne county members in their classrooms.

CONGRATULATIONS TO THE
ECOEA LEADER OF DISTINCTION RECIPIENTS
Receiving the highest member ECOEA award  were members Angela Stewart, Newcomerstown TA and Ed Sims, Rittman EA. They were recognized for their valuable contributions to our membership and the organization during the ECOEA Fall Representative Assembly. President Tracy Lemus Santos presented a commemorative plaque to each recipient and praised them for their service and commitment to the organization. The Leader of Distinction award is only presented every other year by nomination and vote of the ECOEA Executive Board.
Congratulations on this well-deserved honor Angela and Ed!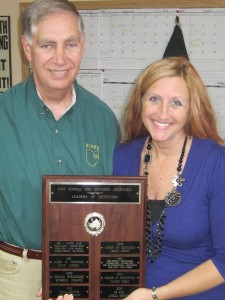 UNIT SCHOLARSHIPS AWARDED
At the ECOEA Fall Representative Assembly held on Saturday, November 7, three $500 scholarships for continuing education for members were awarded by lottery drawing of the applicants in each unit. The Unit I winner is Jennifer Holland from the Fairless Education Association. The Unit II winner is Randall Robart from the Rittman Education Association. The Unit III winner is Allison Medley from the North Canton Education Association. Congratulations to these members as they continue their studies to grow in their profession. ECOEA is proud to provide assistance through the Unit Scholarship program.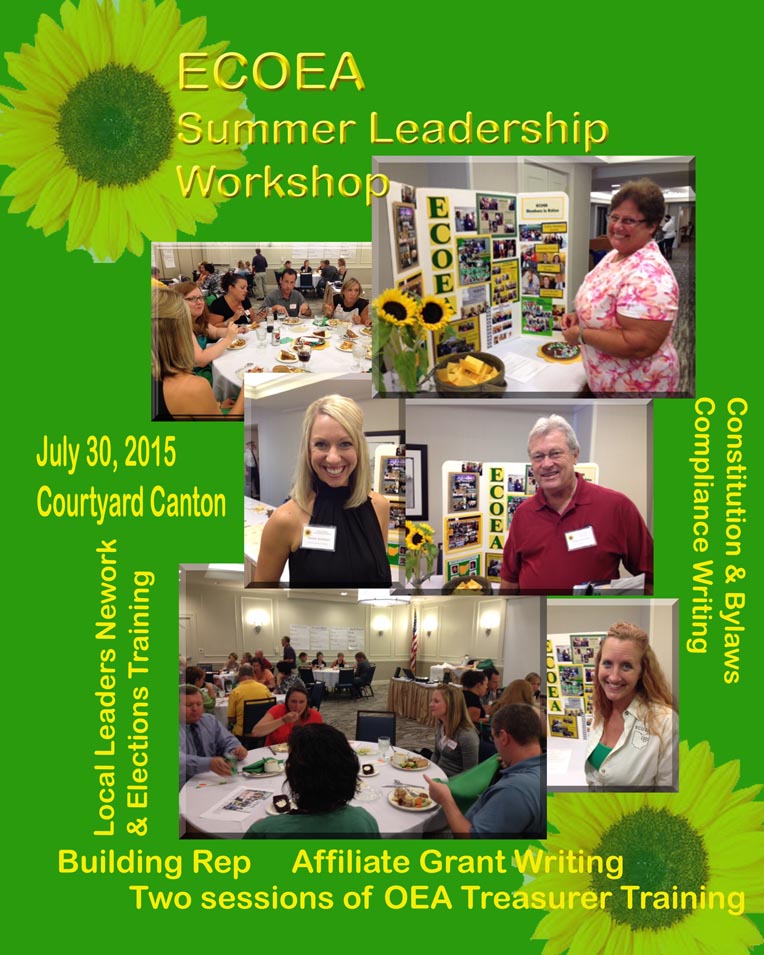 ECOEA delegates to the NEA Representative Assembly 2015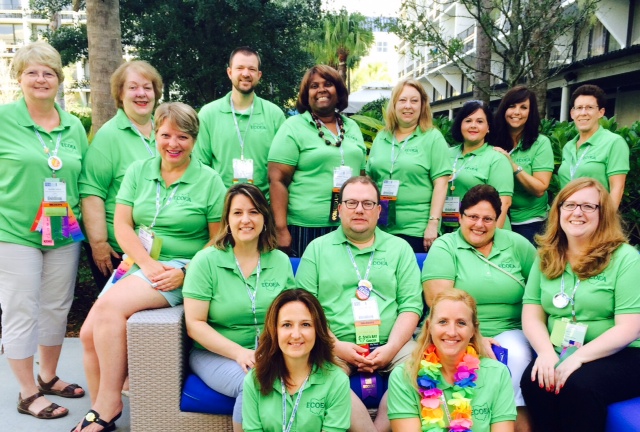 Delegates to the NEA Representative Assembly in Orlando were (Row 1, left to right) Karen Linch, Wooster EA, Angela Stewart, Newcomerstown TA, Row 2 Ramona Moore, Lake Local EA, Llyn Simpson, Malvern EA, Scott Miller, Wooster EA, Cindy Endres, Jackson CPA, Julie Nelson, North Canton EA, Row 3 Val Heban, North Canton EA, Carol Kinsey, OEA-R, Charles Cerniglia, Wooster EA, Dr. Geneva Parker, Canton PEA, Jennifer Milligan, Jackson MEA, Tracy Lemus Santos, Fairless EA, Kristi Cropper, North Canton EA, Anne Bowles, Wooster EA