ECOEA
The link between your Local
and the Ohio Education Association
District Office

129 Easton St. NE Suite 103

 Canton, Ohio  44721

330-499-8587
REGISTRATION IS NOW OPEN!
 ECOEA SUMMER LEADERSHIP WORKSHOP
THURSDAY, JULY 31, 2014
SIX DIFFERENT SESSIONS!  DINNER!  NETWORKING!  DOOR PRIZES!
Use our easy registration at the Summer Leadership link above under Meetings and Events
ECOEA SPRING REP ASSEMBLY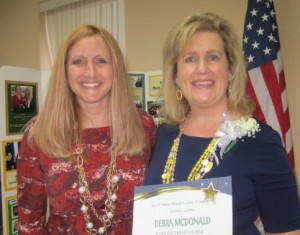 President Angela Stewart kicked off the ECOEA 2014 Spring Representative Assembly by honoring Wayne JVS teacher Debra McDonald. Debra has been selected by the ODE as Ohio Teacher of the Year. Rep Assembly attendees heard Debra's inspirational speech about looking for the teacher leaders in your life. ECOEA is very proud to call Debra one of their own!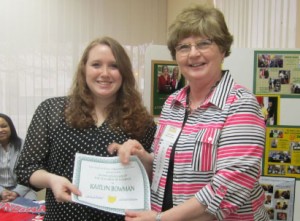 Student Kaitlyn Bowman, daughter of Alberta Bowman of North Canton EA, receives her Quinn Educational Scholarship for Children of Members from ECOEA Business Manager Valerie Heban.  Kaitlyn is studying to become a school guidance counselor at Kent State University. Congratulations and good luck Kaitlyn!
Congratulations to Angela Hlad of Newcomerstown Teachers' Association for being the winner of the Quinn Educational Scholarship for Members. Angela will receive a $500 scholarship to use as she continues her studies at Muskingum College. Angela's name was drawn from all applicants at the ECOEA Executive Committee meeting in March.
OEA-R–It's Time to Join!
Beginning February 1, the first 25 OEA members across the entire state to purchase a fully paid ($350) Pre-retired Life membership will receive a special OEA pen, a flash drive, AND a $25 gas card. No drawing, just the first 25 to join are the recipients of these incentives. Additionally ALL members who purchase or complete a fully paid Lifetime OEA-R/NEA-R membership between February 1 and the end of the day on Friday, May 9 at the OEA RA, will have their name put in a drawing to win their entire $350 membership back. One name will be drawn for each 10 new memberships or major fraction thereof. You do not need to be present to win.
To be eligible for all of these incentives (including the drawing), your membership must be done in a member-to-member manner—-you can not send it directly to OEA. The Pre-Retired form is downloadable from this website at the Forms and Applications tab above. You can forward it to Carol Kinsey, OEA-R Project Team member and Vice President at 5989 Sanvale Ave. S. W. Navarre, Ohio 44663 or email your online confirmation including the confirmation number to her at Cskinsey@aol.com. NEA has informed OEA-R it will not fund any more grants for membership promotion so this is the OEA-R LAST BEST OFFER! It is time to join OEA-R now!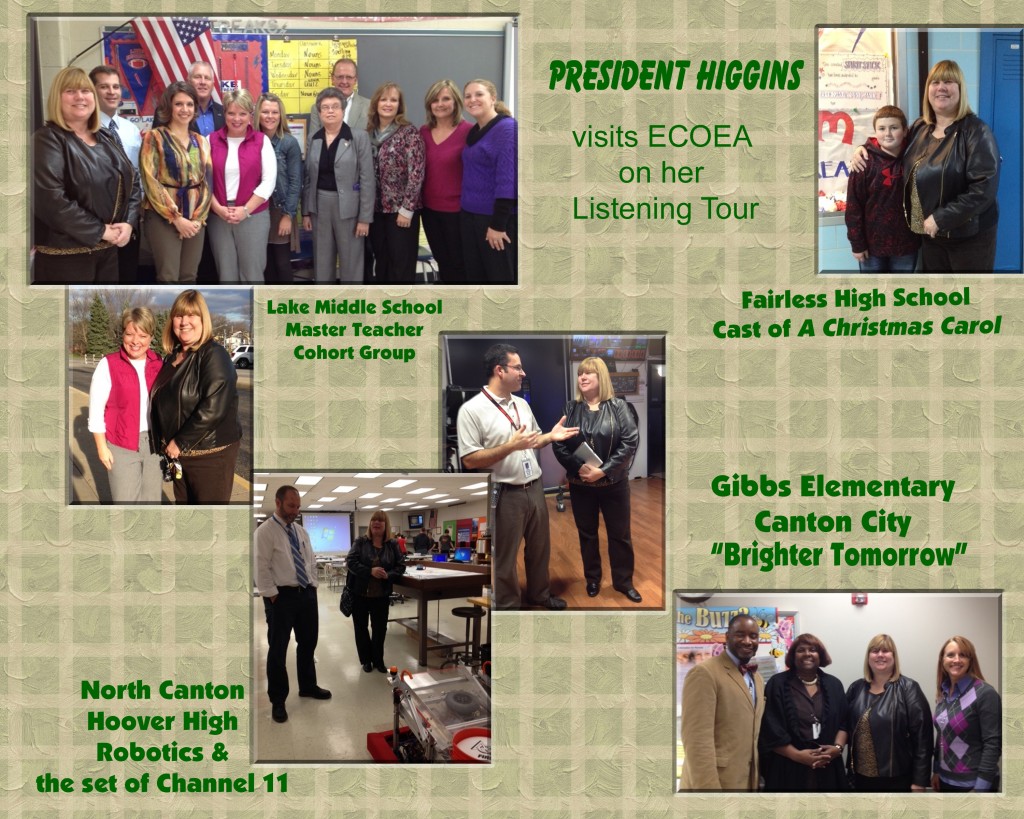 Friend of Education 2013
Kathleen McKinley
Congratulations to the ECOEA Friend of Education for 2013. At the Fall Representative Assembly on Saturday, November 23, ECOEA honored Kathleen McKinley for her service to our members. A former teacher herself, Kathleen advocates for member rights throughout Northeast Ohio. As a managing partner in the law firm, Baasten, McKinley & Co., LPA, Kathleen has annually presented a legal update for ECOEA at their Fall Roundtable.  She is a published author of articles regarding teacher evaluation, Ohio Department of Education hearings, and teacher termination. She has represented OEA affiliates and members for the past 23 years.
The Friend of Education is chosen by the ECOEA Executive Board to recognize a person who has provided outstanding service to public education and the teaching profession. Congratulations Kathleen for all you do!
OHIO TEACHER OF THE YEAR
Congratulations to Debra J. McDonald, of Wayne County J.V. S. Education Association, for being selected as the Ohio Teacher of the Year. McDonald teaches in the Early Childhood Education and Care program at the Wayne County Schools Career Center in Smithville. She is a Master Teacher, a state advisory group member to the Ohio Resident Educator mentoring program, a member and licensure committee chair of the Ohio Educator Standards Board, and has served on an advisory panel for the development of OTES. ECOEA is proud to have the Ohio Teacher of the Year as one of our members. Congratulations!
***********************************
************************************* 
ECOEA at the NEA RA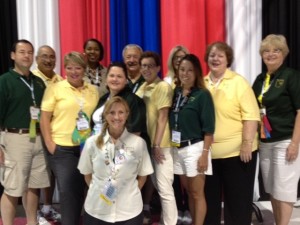 ECOEA was well-represented at the National Education Association Representative Assembly in Atlanta, Georgia, in early July.  Members from North Canton, Massillon, Fairless, Wooster, Canton City, Lake Local, and Newcomerstown gathered at the largest democratic assembly in the world to vote on Constitution & By-Law amendments, to elect new Executive Committee members, and to introduce and debate New Business Items for a real lesson in parliamentary procedure.
ECOEA is one of the 10 District Assoc

iations
that make up the OEA network…
The district is made up of 62 local associations
in Stark, Wayne, Tuscarawas, Holmes,
Columbiana and Carroll Counties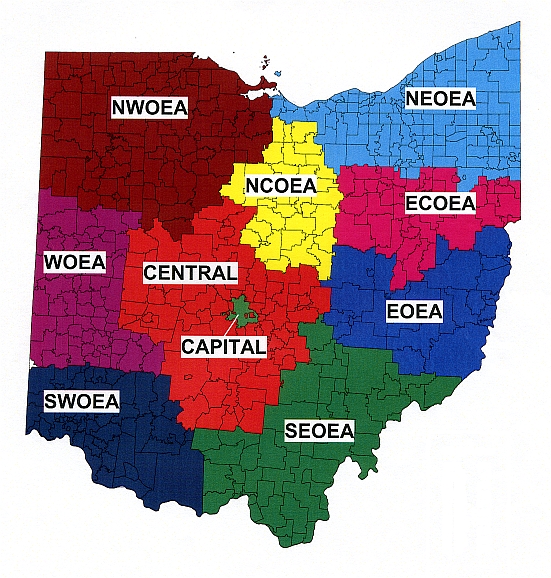 * This structure assures that decisions are made by representatives from all parts of the state, as the delegates to the OEA Representative Assembly are elected yearly within each of the 10 OEA Districts at the Local Association level.
* About two thirds of the OEA Board of Directors members are elected from units withing the District Associations. ECOEA is comprised of three of these units.
* Each District Association also has a representative on each of the various OEA Committees.