EAST CENTRAL OHIO EDUCATION ASSOCIATION
129 EASTON ST NE SUITE 103
CANTON, OH 44721
(330) 499-8587
ecoea@sbcglobal.net
 ECOEA—THE LINK BETWEEN YOUR LOCAL
AND THE OHIO EDUCATION ASSOCIATION
CONGRATULATIONS TO OUR NEW ECOEA OFFICERS ELECTED AT THE REPRESENTATIVE ASSEMBLY ON SATURDAY, APRIL 11. 
TRACY LEMUS SANTOS, FAIRLESS EA, PRESIDENT
JULIE NELSON, NORTH CANTON EA, VICE PRESIDENT
MANDY BANKERT, NORTH CANTON EA, RECORDING SECRETARY
ANGELA STEWART, NEWCOMERSTOWN TA, PAST PRESIDENT
CONGRATULATIONS TO THE NEW ECOEA LEADERSHIP TEAM!
SCHOLARSHIP APPLICATIONS FOR ECOEA MEMBERS TO ATTEND OEA SUMMER LEADERSHIP ACADEMY DUE BY 

APRIL 22, 2015. USE THE SCHOLARSHIP TAB ABOVE. OEA SUMMER ACADEMY REGISTRATION DOES NOT OPEN UNTIL MAY 8. APPLY NOW FOR SCHOLARSHIPS!
ECOEA SUMMER LEADERSHIP WORKSHOP REGISTRATION NOW OPEN! USE THE MEETINGS AND EVENTS TAB ABOVE!
ECOEA LEGISLATIVE DINNER 
MARCH 6, 2015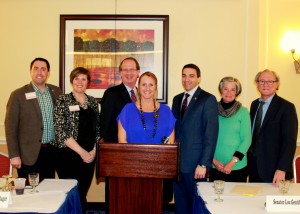 What a great turnout! Over 90 members and guests gathered for a forum where members submitted their concerns to our guests from the state legislature and state Board of Education. President Angela Stewart moderated the panel and panel members addressed the hard questions being asked. We are appreciative of their time and energy to attend this evening event. Our guests for the evening were Senator Scott Oelslager, Senator Lou Gentile, Senator Frank LaRose, State Rep. Stephen Slesnick, State Board of Education members Stephanie Dodd, Roslyn Painter-Goffi, and Bob Hagan. 

For more pictures, see the ECOEA Scrapbook under the Information tab above.