ECOEA
The link between your Local
and the Ohio Education Association
District Office

129 Easton St. NE Suite 103

 Canton, Ohio  44721

330-499-8587
HAPPY NEW YEAR
TO OUR ECOEA MEMBERS AND FRIENDS!
START THE NEW YEAR OUT RIGHT BY REGISTERING FOR UPCOMING WORKSHOPS AND EVENTS!
Plan now to attend important workshops being offered by ECOEA and OEA. First, an event that is appropriate and necessary for all members–the ECOEA Retirement Workshop on Saturday, February 7, 2015. This event will be held at the Courtyard by Marriott in Canton. Three sessions to cover the needs of EVERY member-Late Career STRS, Mid-Career STRS, and SERS. With the support of OEA-R, there is a great breakfast buffet, door prizes, and valuable information! Go to the Meetings and Events tab above for all the information to register.
That same weekend, OEA will be holding their Collective Bargaining Conference at the Hilton Columbus Downtown on February 5-7, 2015. This conference entitled, "Know Your Value, Know Your Power" is crucial for local bargaining teams. In order to be considered for OEA Scholarships of $100, members must be registered by December 12 at http:cbconference.ohea.org. See the OEA Collective Bargaining Conference Scholarship form at the Scholarship tab above. ECOEA also offers 10 scholarships of $50. See the ECOEA Collective Bargaining Scholarship form at the Scholarship tab above.
Save the Date! The ECOEA Legislative Dinner will be Friday, March 6, at the Courtyard by Marriott in Canton. More information above under the Meeting and Events tab. Stay active, stay informed!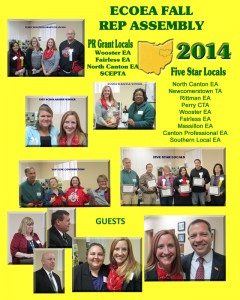 President Becky Higgins'
Listening Tour 

Fall 2014
OEA President Becky Higgins and ECOEA President Angela Stewart spent a beautiful fall day touring the eastern part of the ECOEA District by  visiting locals in Columbiana County. Pattie Howe, President of Beaver Local EA, arranged for the visit to Beaver Local, President Gretchen Winland made the arrangements for East Palestine, and President Stacey Zines arranged the visit to United Local.
The Listening Tour concluded with a reception at Shale Tavern in Lisbon where over 40 members welcomed President Higgins. Attendees also got the opportunity to speak with the OEA-endorsed candidates Nick Barborak (HD5), Bobby Hagan (State Board of Ed District 8), Senator Joe Schiavoni (SD33), and Congressional District 6 candidate Jennifer Garrison. President Higgins spent the day listening to members concerns and visiting classrooms. Thanks for listening, Becky!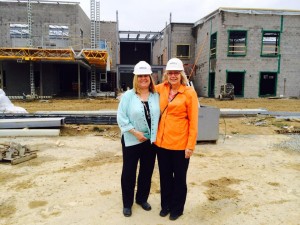 OEA Summer Academy 2014
Members from around ECOEA spent three days  in Columbus in August sharpening their skills to be better representatives for their associations. Choosing from four different schools of training, ECOEA was represented by members Patty Howe, Beaver Local EA, Julie Nelson, Kristi Cropper, Jen McKelley, and Val Heban, North Canton EA, Anne Bowles and Karen Linch, Wooster EA, Angela Stewart and Janel Travis, Newcomerstown TA, Cheryl Bordner, Newcomerstown Classified PA, and Cindy Endres, Jolene Dancy, and Lori Liskey, Jackson Classified PA. From Canton Professional Educators' Association were Tamika Moss and Cherie Johnson-Clark, and from Fairless EA was Tracy Lemus Santos. Attending the Common Core workshop strand were Barry Zehnder and Mary Edwards from New Philadelphia EA, and Kayla Pape, Pam Stoller, Michelle Roberts, and Kristine Stenger from Carrollton EA. The theme for the Summer Academy was "Rise, Renew, and Reclaim." Members were energized by the networking, information and activities, including a march down High Street to draw attention to "toxic testing."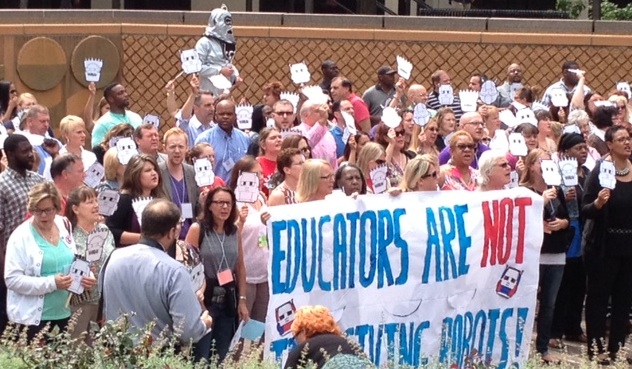 NEA REPRESENTATIVE ASSEMBLY
DENVER, COLORADO JULY 1-6, 2014
Your ECOEA delegates to the NEA Representative Assembly gathered in Denver to conduct the business of the Association from July 1-6. Delegates were Angela Stewart, Newcomerstown TA, Tracy Lemus Santos, Fairless EA, Anne Bowles, Karen Linch, and Robin Gonzalez from Wooster EA, Carol Kinsey, OEA-R, Ramona Moore and Allison Grimm from Lake Local EA, May Alayamini, Tamika Moss, and Michelle Martin Jones from Canton Professional EA, and Dan Campanaro and Val Heban from North Canton EA. 
ECOEA SPRING REP ASSEMBLY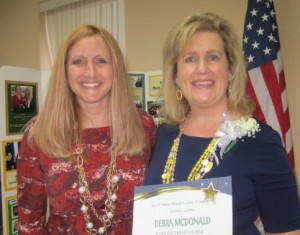 President Angela Stewart kicked off the ECOEA 2014 Spring Representative Assembly by honoring Wayne JVS teacher Debra McDonald. Debra has been selected by the ODE as Ohio Teacher of the Year. Rep Assembly attendees heard Debra's inspirational speech about looking for the teacher leaders in your life. ECOEA is very proud to call Debra one of their own!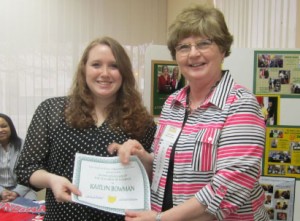 Student Kaitlyn Bowman, daughter of Alberta Bowman of North Canton EA, receives her Quinn Educational Scholarship for Children of Members from ECOEA Business Manager Valerie Heban.  Kaitlyn is studying to become a school guidance counselor at Kent State University. Congratulations and good luck Kaitlyn!
Congratulations to Angela Hlad of Newcomerstown Teachers' Association for being the winner of the Quinn Educational Scholarship for Members. Angela will receive a $500 scholarship to use as she continues her studies at Muskingum College. Angela's name was drawn from all applicants at the ECOEA Executive Committee meeting in March.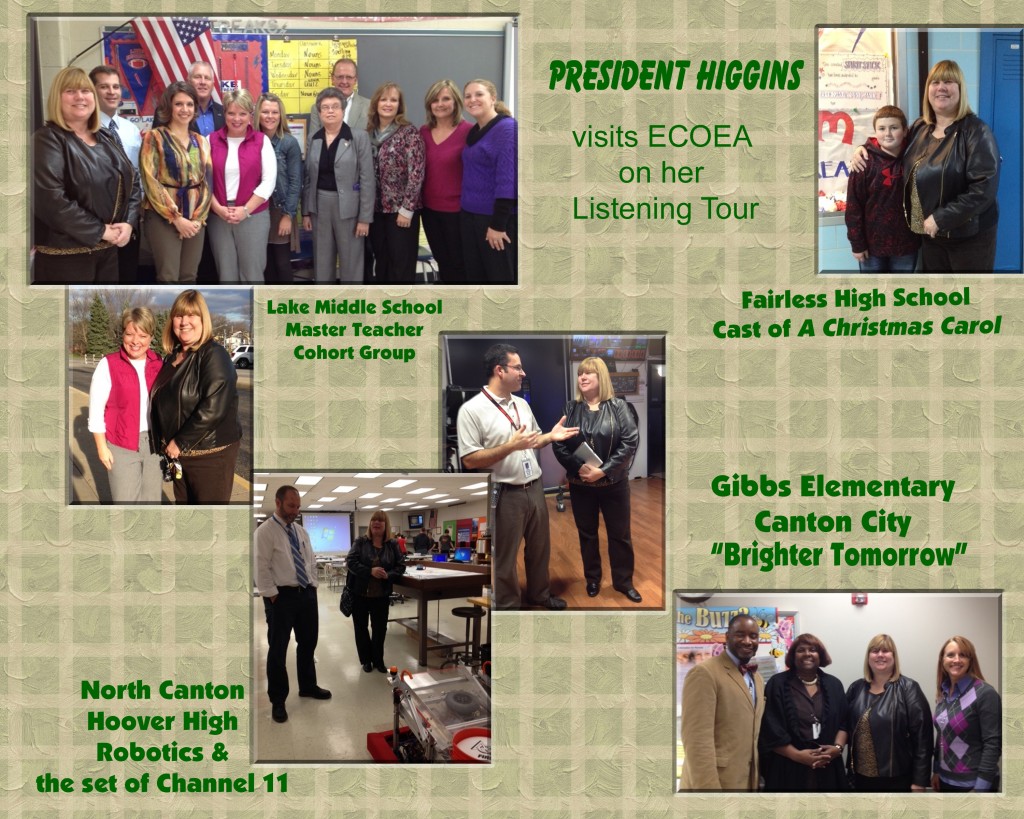 Friend of Education 2013
Kathleen McKinley
Congratulations to the ECOEA Friend of Education for 2013. At the Fall Representative Assembly on Saturday, November 23, ECOEA honored Kathleen McKinley for her service to our members. A former teacher herself, Kathleen advocates for member rights throughout Northeast Ohio. As a managing partner in the law firm, Baasten, McKinley & Co., LPA, Kathleen has annually presented a legal update for ECOEA at their Fall Roundtable.  She is a published author of articles regarding teacher evaluation, Ohio Department of Education hearings, and teacher termination. She has represented OEA affiliates and members for the past 23 years.
The Friend of Education is chosen by the ECOEA Executive Board to recognize a person who has provided outstanding service to public education and the teaching profession. Congratulations Kathleen for all you do!
OHIO TEACHER OF THE YEAR
Congratulations to Debra J. McDonald, of Wayne County J.V. S. Education Association, for being selected as the Ohio Teacher of the Year. McDonald teaches in the Early Childhood Education and Care program at the Wayne County Schools Career Center in Smithville. She is a Master Teacher, a state advisory group member to the Ohio Resident Educator mentoring program, a member and licensure committee chair of the Ohio Educator Standards Board, and has served on an advisory panel for the development of OTES. ECOEA is proud to have the Ohio Teacher of the Year as one of our members. Congratulations!
***********************************
ECOEA is one of the 10 District Assoc

iations
that make up the OEA network…
The district is made up of 62 local associations
in Stark, Wayne, Tuscarawas, Holmes,
Columbiana and Carroll Counties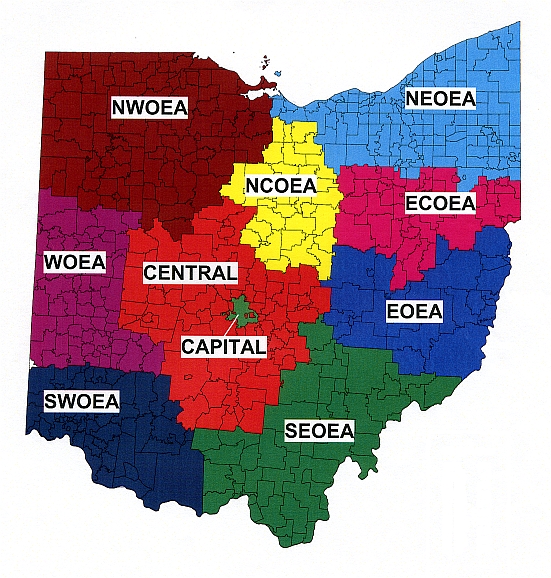 * This structure assures that decisions are made by representatives from all parts of the state, as the delegates to the OEA Representative Assembly are elected yearly within each of the 10 OEA Districts at the Local Association level.
* About two thirds of the OEA Board of Directors members are elected from units withing the District Associations. ECOEA is comprised of three of these units.
* Each District Association also has a representative on each of the various OEA Committees.