EAST CENTRAL OHIO EDUCATION ASSOCIATION
129 EASTON ST NE SUITE 103
CANTON, OH 44721
(330) 499-8587
ecoea@sbcglobal.net
 ECOEA—THE LINK BETWEEN YOUR LOCAL
AND THE OHIO EDUCATION ASSOCIATION
ECOEA delegates to the NEA Representative Assembly 2015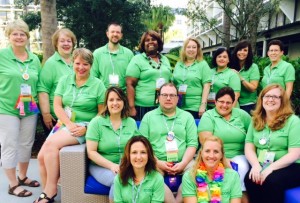 Delegates to the NEA Representative Assembly in Orlando were (Row 1, left to right) Karen Linch, Wooster EA, Angela Stewart, Newcomerstown TA, Row 2 Ramona Moore, Lake Local EA, Llyn Simpson, Malvern EA, Scott Miller, Wooster EA, Cindy Endres, Jackson CPA, Julie Nelson, North Canton EA, Row 3 Val Heban, North Canton EA, Carol Kinsey, OEA-R, Charles Cerniglia, Wooster EA, Dr. Geneva Parker, Canton PEA, Jennifer Milligan, Jackson MEA, Tracy Lemus Santos, Fairless EA, Kristi Cropper, North Canton EA, Anne Bowles, Wooster EA
REGISTER NOW

FOR THE ECOEA SUMMER LEADERSHIP WORKSHOP!
USE THE MEETINGS AND EVENTS TAB ABOVE TO REGISTER NOW FOR TRAINING FOR NEW AND EXPERIENCED LOCAL LEADERS. THIS EVENT IS HELD AT THE COURTYARD CANTON IN BELDEN VILLAGE ON THURSDAY, JULY 30. AFTERNOON (2:00-4:00) AND EVENING (5:30-7:30) SESSIONS WITH A DELICIOUS DINNER BUFFET FOR ALL ATTENDEES. DOOR PRIZES TOO! EASY TWO-STEP REGISTRATION:
1. SUBMIT YOUR ONLINE REGISTRATION
2. SEND IN YOUR $10 DEPOSIT PER MEMBER. YOUR DEPOSIT IS RETURNED WHEN YOU ATTEND OR FORFEITED IF YOU FAIL TO SHOW. 
YOU WILL RECEIVE A CONFIRMATION OF YOUR SESSIONS WHEN YOUR CHECK IS RECEIVED. REGISTER NOW!
 Good luck to our ECOEA delegates to the NEA Representative Assembly!
Delegates to the NEA Representative Assembly gathered in Columbus for the first Ohio Caucus on Saturday, June 6. The NEA Rep Assembly will be held in Orlando, Florida July 1-6, where over 10,000 delegates and guests will gather for the business of the association. ECOEA has 16 delegates attending to represent the 6,000 members in the ECOEA district. Pictured are first time delegates Llyn Simpson, Malvern EA, and Jen Milligan, Jackson Memorial EA, Julie Nelson, North Canton EA, and mentor Ramona Moore, Lake Local EA.
ECOEA LEGISLATIVE DINNER 
MARCH 6, 2015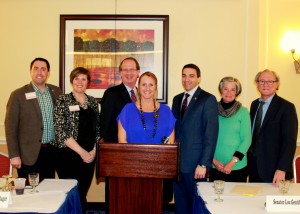 What a great turnout! Over 90 members and guests gathered for a forum where members submitted their concerns to our guests from the state legislature and state Board of Education. President Angela Stewart moderated the panel and panel members addressed the hard questions being asked. We are appreciative of their time and energy to attend this evening event. Our guests for the evening were Senator Scott Oelslager, Senator Lou Gentile, Senator Frank LaRose, State Rep. Stephen Slesnick, State Board of Education members Stephanie Dodd, Roslyn Painter-Goffi, and Bob Hagan. 

For more pictures, see the ECOEA Scrapbook under the Information tab above.