ECOEA is happy to provide two different types of workshops this summer–one for Local Leaders, and one for all members for Professional Development Hours.
For Local Leaders- Register at this link to attend the ECOEA Local Leaders Training held at R. G. Drage CTC, 4200 Richville Rd., Massillon, on Wednesday, July 12. All Local Association officers, and their Building Reps are invited to attend. Registration is open now, and closes June 30, or when capacity is reached. Register now to avoid being shut out! Bring your team and start your planning for the new year of association work.
https://form.jotform.com/231107289255052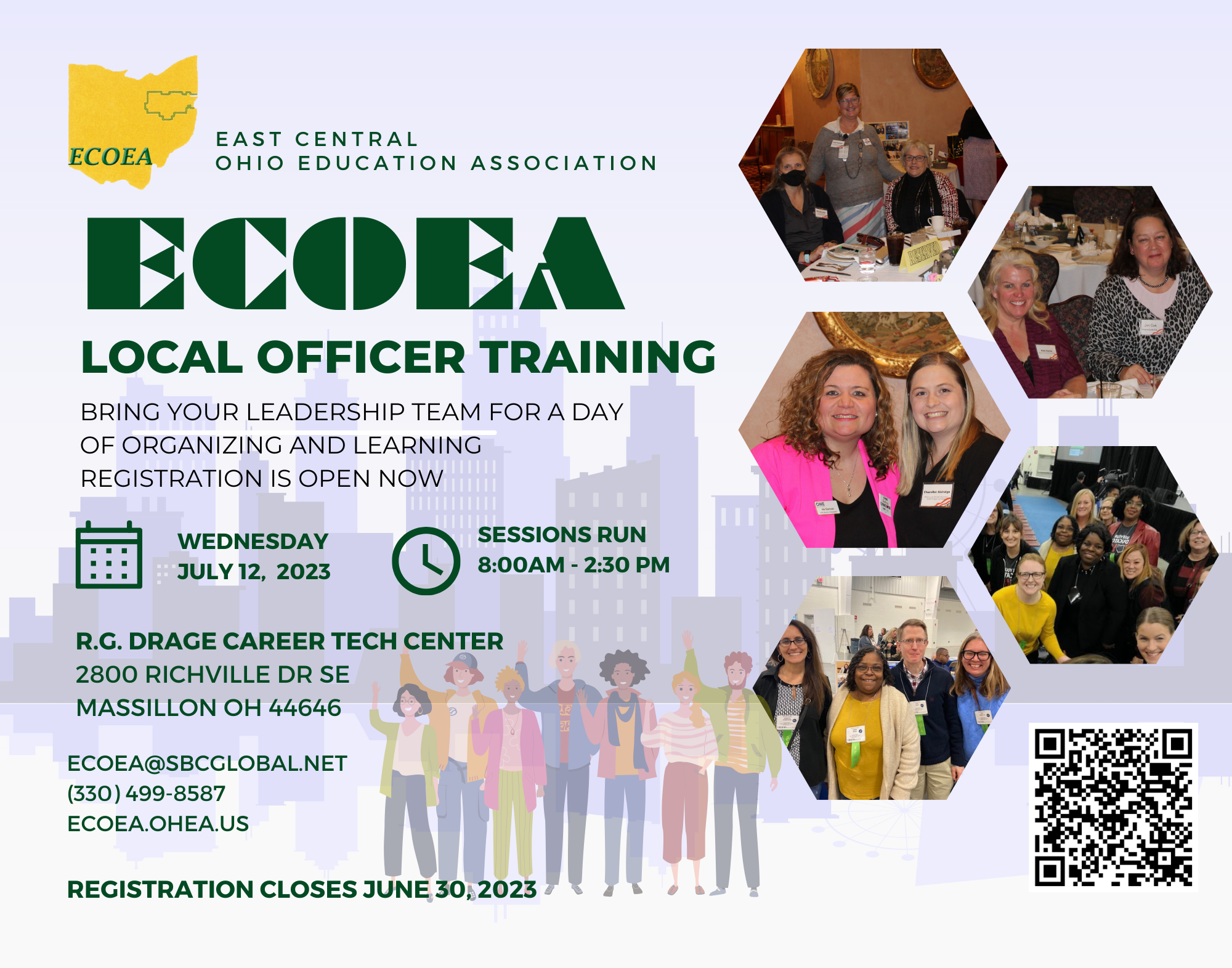 For Members-
We have two great sessions on Zoom for you!
On Tuesday, July 18, join us as OEA Consultant Daria DeNoia brings us:
Turning Challenging Behaviors into Opportunities for Success
All educators encounter students who have challenging behaviors. The key to a successful school year is identifying those behaviors, understanding what needs a student is trying to meet when exhibiting those behaviors, and having strategies and tools that will create positive outcomes for everyone. During this facilitated session, educators will: reflect upon their own behavior expectations for students; begin to examine the root causes of student behaviors; learn about functional behavior assessments and behavior improvement plans; discuss the importance of relationships; and learn some strategies for self-care.
On Tuesday, July 25, from 9:00 AM-11:00 AM, join us as Gary DiBianca, GLSEN, brings us:
Why Do Your LGBTQ+ Students Still Need You? – Being an Educator Advocate for All
Led by Gary DiBianca, GLSEN Northeast Ohio
Even though our LGBTQ+ students are living during a time of more social acceptance and visibility, the research and data provided by organizations like GLSEN and The Trevor Project still shows how much more work needs to be done to meet the needs of our LGBTQ+ students. In this session we will delve into the language of understanding terms associated with sexual orientation and gender identity, while discussing the current landscape around state and federal policies and protections for LGBTQ+ youth. More importantly, we will determine what educators can do to help all students in individual classrooms and schools by being visible allies and advocates and/or by making conscious choices in curriculum, classroom management, and school policy.
Register for either or both session at:
https://form.jotform.com/231107422771044