East Central Ohio Education Association
Public Relations Grant Deadline April 1, 2018
***********************************************
Got a great idea for your members to connect with the community? Need some start-up funds for a special project that will promote your local in the community? Apply for a $500 Public Relations Grant !
ECOEA has budgeted for locally developed public relations programs. 
The following guidelines will be used for the proposal:
(1) Projects should promote education through the educator, the local
association, and ECOEA.
(2) Projects which enhance local education status will be given first consideration.
(3) ECOEA's name should be prominently displayed in any publicity and should be
credited with assisting in the presentation of the project.
(4) Grants will be made for first time proposals as a way of initiating a PR Project
in a local association.
(5) Grants will be given to a maximum of $500.00 per local association.
(6) Deadline for proposals will be determined annually.
(7) Grants will be awarded at the ECOEA Representative Assembly.
(8) In order to be eligible for a PR Grant, locals must have elected delegates who attended the ECOEA RA the previous year. (policy 2/12/14)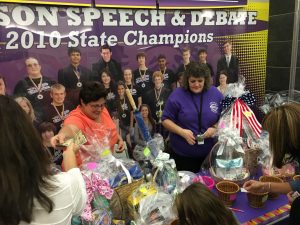 Jackson Classified Personnel Association received a PR grant in 2015 to create a scholarship for a graduating senior. The association is continuing the effort through fundraising for another scholarship this year. Here members staff a table of baskets to be awarded in a drawing to raise scholarship funds.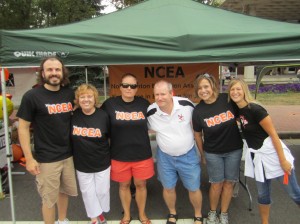 North Canton Education Association members used their ECOEA Public Relations grant to host a tent at the Main Street festival in North Canton. Teachers passed out spirit pencils to the students and passersby and promoted good will in the community. Wearing their new NCEA T-shirts, this good-looking group posed for the camera. Grant funds were used to rent the space, create the sign, and provide the pencils. The ECOEA grant kick-started this successful project which is now included in their annual budget.
APPLY AT THIS LINK FOR A SPRING 2018 PR GRANT: