Every ECOEA Local Association can be in the running for this award each year. Top prize of $500 is awarded in a lottery drawing from the pool of locals who have met the criteria set forth. Click below for more information and the criteria list
The 5 Star Awards for this year went to the following ECOEA Local Associations who all met at least five of the six criteria during the 2012-2013 school year. Award certificates were handed out at the ECOEA Fall Rep Assembly on November 23rd.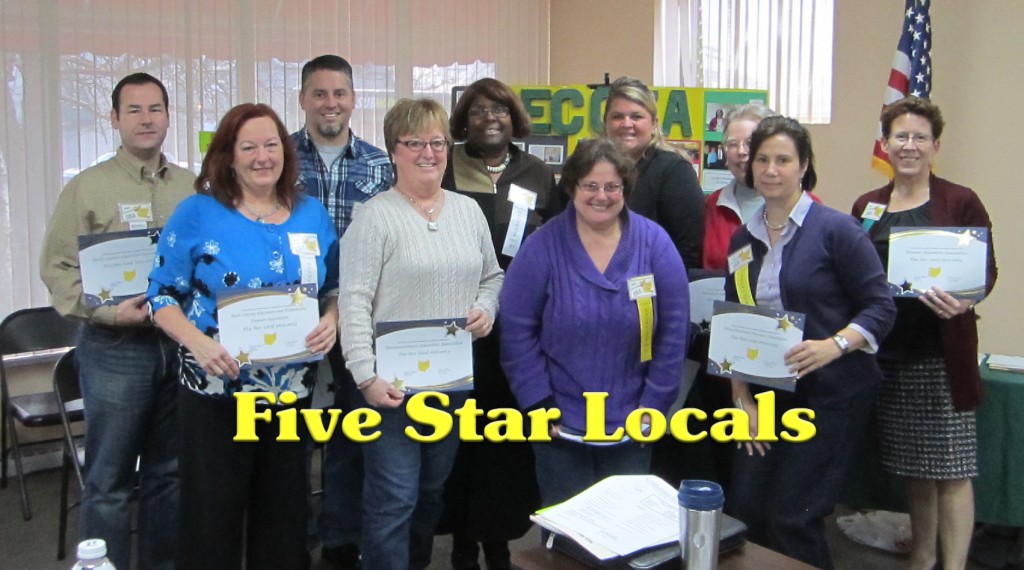 The following members accepted the awards for their local associations.
Row 1: Mary Ann Mastnick-SCEPTA,  Janel Travis-Newcomerstown TA, Cindy Endres-Jackson Classified Personnel Association, Kelli Green-Perry CTA. 
Row 2:  Dan Campanaro-North Canton EA, Eric Smith-Fairless EA,  Dr. Geneva Parker-Canton Professional EA,  Allison Grimm-Lake Local EA,  Carol Meyers-Massillon EA,  Anne Bowles-Wooster EA
Not present:  Plain Local TA,  Triway EA
The winner of the $500 lottery drawing was Lake Local EA. President Angela awarded the check to President Allison Grimm of Lake Local EA.