Minority Leadership and Women's Leadership Training Programs
The Minority Leadership and Women's Leadership Training programs prepare early career educators and emerging leaders to be powerful advocates for their students, their profession, and their Association. The hands-on training curriculum teaches participants foundational leadership skills, the logistics of running for elected office, and how to advocate for student-centered policies and social justice issues that impact their schools and communities.
East Conference was held in Atlanta in October, 2017.
The West Conference will be December 8-10, 2017 in Las Vegas. Use this link for more information:
http://www.nea.org/home/65375.htm
There were no applicants for this scholarship. If interested in attending, please contact the ECOEA office at (330) 499-8587.
ECOEA policy states:
8.9 NEA Minority and Women's Training Conference
One $500 scholarship may be awarded based upon the following criteria:
The applicant must be an ECOEA member.
Selection of the winner shall be by a lottery. Deadline for applications will be determined annually and announced in the ECOEA newsletter/website.
The winner shall send a receipt of expense to ECOEA after attending the conference and a reimbursement check will be sent to the recipient.
The scholarship will be awarded to a member who has not previously received the NEA Minority and Women's Training Conference Scholarship. If all applicants have previously received this scholarship, the most recent recipient shall be disqualified from consideration.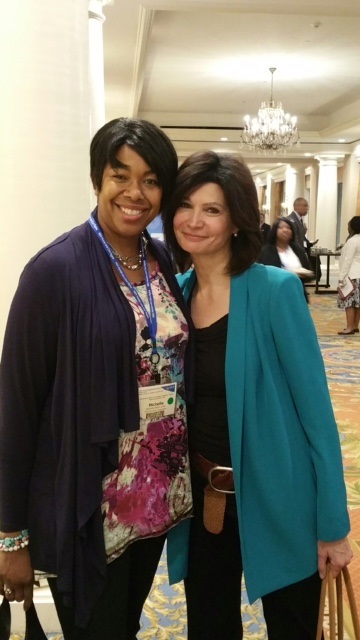 Michelle Martin Jones of Canton Professional Educators' Association attended the 2017 using an ECOEA scholarship. Here she is seen with NEA President Lily Eskelsan-Garcia.