ECOEA is proud to provide a one-time scholarship of $500 to an ECOEA member to attend the NEA Leadership Summit. Please complete your application for consideration by the due date of January 13, 2017. The Leadership Summit for 2017 will be held in Orlando, Florida, February 24-26, 2017. 
For more information about the Summit, use this link to the NEA National Leadership Summit.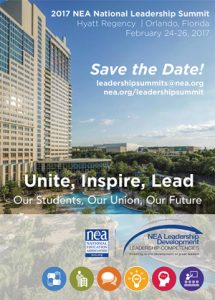 Deadline to apply for this scholarship is Friday, January 13, 2017. Use the form below to apply. You will receive a confirmation email from ECOEA when you form has been received.
ECOEA Policy regarding this scholarship states:
8.5      NEA National Leadership Summit (2/12/14)
One $500 scholarship may be awarded based upon the following criteria:
The applicant must be a member of ECOEA.
Selection of a winner shall be by a lottery.  Deadline for applications will be determined annually and announced in the ECOEA Newsletter and/or the ECOEA website.
The winner shall send a receipt of expenses to ECOEA after attending the conference and a reimbursement check will be sent to the recipient.
The scholarship will be awarded to a member who has not previously received the NEA National Leadership Summit Scholarship. If all applicants have previously received this scholarship, the amount will be divided evenly among them.